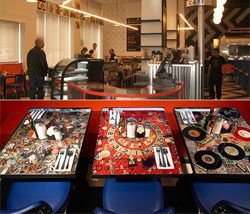 Rudy's Can't Fail Cafe, co-owned by Mike Dirnt, opened the doors to it's new restaurant today in Uptown Oakland, California. The new outlet is adjacent to the Fox Theatre, which Green Day fans may know best as the venue for Green Day's first official live presentation of the 21st Century Breakdown album, in 2009.
You can read more about the restaurant opening and what Rudy's has to offer over at their
new official site
. You can also follow them
on Twitter
for updates.
The
original restaurant
in Emeryville has been a happy hunting ground for Green Day fans in the past, so we'll be looking forward to testing out some "Shakin' Jesse's" at the Uptown!
One of our GDC-ers has already claimed to have "Christened the toilet" at the new establishment... in the best possible way, of course.
Some of you might get a chance to stop by when Emily's Army have their album release party at the Uptown Club this Friday. Let us know how you get on!