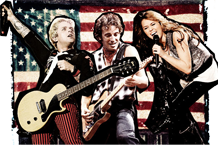 Here in the USA it is the 4th of July, which means that it is independence day! In celebration, Green Day has made many independence day list's on the internet.
The first list that Green Day is included in is Billboard.com's "15 Awesome 'America' Songs" with the song American Idiot. According to Billboard the "Key America Lyric" in the song is:
""Don't want to be an American idiot / One nation controlled by the media / Information age of hysteria / It's calling out to idiot America."
You can view the full list over on Billboard.com by
clicking here
.
Green Day was also included in MTV's list entitled "A Fashion Tribute To Fourth Of July Music Videos" with their 2004 music video "American Idiot".
"Please direct your attention to the red tie. Clearly, Billie Joe is punk. The eyeliner and wet-look hair are clear indicators of anti-establishment. But what we like, what really interests us, is not the black or the aggro or the spitting or whatever he does, but that little pop of color he throws in. And he's done it before but this time it sticks and suddenly there is an entire nation of raccoon-eyed dudes with skinny ties...and I'm not sure how I felt about it then, but now, well, now it's perfect and sums up the early aughts deliciously."
Other artist's that made the list include Bruce Springsteen, Katy Perry, and Miley Cyrus. You can read the full list on MTV.com by
clicking here
.