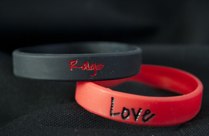 Hey Green Day fans!
We've got some
new wristbands
in stock! They're based on the "Rage & Love" theme from Green Day's American Idiot album. You can order an individual "Rage" or "Love" wristband for $4 plus shipping, or we're offering the pair for $7 (plus shipping). As with all our merchandise, we do ship worldwide.
You can check them out, along with our other items
in the 'Merch' section
.
All proceeds go towards covering our server bills and allowing us to do more projects in the future like contests and giveaways, we appreciate your support.