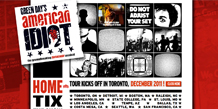 Green Day's website for the American Idiot Musical has recently received a facelift in preparation for the upcoming tour of the show beginning this December.
No new information about the upcoming tour has been announced on the site as of now. Hopefully in the coming weeks as the show comes closer to opening we will find out who has been chosen as the cast and see if any of the Broadway cast has decided to tour with the show.
You can check out the newly revamped AmericanIdiotonTour.com by
clicking here
.