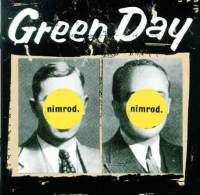 Nimrod
was released as Green Day's 5th studio album in 1997, 14 years ago today. The album reflected a progressive period for the band as they came to terms with rejection from their local East Bay punk scene and dealt with the pressures of parenthood.
The album itself demonstrated creative progression, with the most musically diverse array of songs heard on a Green Day album to date. From the signature ballad of
Good Riddance (Time Of Your Life)
, to the 'in your face' hardcore punk of
Platypus (I Hate You)
, and the drag-party tune
King For A Day
, this album is a great example of Green Day's early ventures to push their musical boundaries. It also saw the addition of string and horn arrangements (cue the bumble bees). Billie Joe has jokingly referred to this period, together with
Insomniac
, as Green Day's "metal years."
The album was recorded May to July, 1997, with producer Rob Cavallo. It's gone on to sell over 5 million copies worldwide.
Hitchin' A Ride
,
Good Riddance (Time Of Your Life)
,
Redundant
and
Nice Guys Finish Last
were released as singles from the album.
Nimrod's diversity is further demonstrated through it's non-singles. We have some of Billie Joe's most open and honest lyrics in 'snot-nose' punk of
The Grouch
,
Take Back
&
Reject
.
Scattered
and
Worry Rock
provide some more of the melodic sound that is Green Day's speciality. It was also an early example of Green Day venturing in to longer, story based songs, with the intertwining
Jinx/Haushinka
.
Last Ride In
offers a first instrumental track for the band, which almost acts as a 'surfy' interlude for the album. It would probably be fair to say that this album is one of the more challenging listens in Green Day's catalogue, with the variety of the music taking you on quite a trip.
Of course, it's difficult talk about Nimrod without properly acknowledging
Good Riddance (Time Of Your Life)
. The song has gone on to be probably Green Day's most well known, being played most notably during the finale for American sitcom
Seinfeld
. Billie Joe later said that this song was written around the time of
Dookie
, so it's appearance on this album conveyed a willingness to take risks and move away from the traditional 'punk-rock' song structure Green Day had mostly employed to date.
The Nimrod era was something of a return to form for the band, from a touring perspective particularly. After exhaustion brought a premature end to their Insomniac tour, Green Day came back after a 2 year break re-energized and put in some of their most ferocious and fun performances to date. This was demonstrated early on with their infamous album launch in-store show at Tower Records in New York, where anarchic scenes saw Billie Joe encouraging the crowd to "start a riot" - what a nimrod!
Please join us in our tradition of listening to the album front to back some time today, and leave us your thoughts on the album and the impact it's had on you.
Smoothed Out:
"My first memory of Nimrod is blasting it full volume in my mum's car on the way home from buying it in town, I'll never forget my mum's face when King for a Day came on But the defining moment for me has to be singing along to Good Riddance with her and being able to share my love for Green Day with my family has made my memories all the more special."
Katarina:
"Nimrod is the first (Green Day) album I bought with my own money. I remember listening to it after I got home, I thought it was something I never heard before. Such an amazing record. Even though I love every single song by Green Day, I still think Nimrod is my favorite album. Starting with Nice Guys Finish last, even the start makes me all excited to hear what's coming next. Hitchin' a Ride, Redundant, Uptight, Haushinka, Reject, Good Riddance.. and the rest of course. Every time I listen to the record again, I notice new things about the songs I hadn't heard before. Makes me fall in love with the music even more. That happens to me with every Green Day record btw, the music gets better/gets more.. Idk the right word.. depth (I guess?), well, let's just say it gets more finking awesome the more I listen to it."
Bryony Isabella:
"The sheer diversity of the songs on this album is what makes it so great. Whatever mood you're in, you can stick Nimrod on and you'll find something to suit your mood; be it sad and slow with Good Riddance (Time of Your Life) or bile-filled hate with Platypus (I Hate You), there are no dull moments in Nimrod."
The Ballad:
"The first time I listened to Nimrod it was in the middle of summer when I was 11. I had just gotten new blinds in my room and they were really blue and when the light went through them the room had a weird bluish tint. I'd just sit in my room all day and relax listening to Nimrod. It is definitely the chillest GD album in my opinion. I always think of the color blue when I listen to Nimrod now."
Tony:
"This is probably my most important Green Day album. It came out when i was 16, an impressional adolescent with music becoming a bigger influence in my life. Nimrod became a permanent fixture in my CD player for a solid year or 2, and i have memories of coming home from school and blasting "Nice Guys Finish Last" on full blast almost every day, letting out my frustration and angst of the day. I also got the see the band live for the first time on the Nimrod tour, at V98 festival in England. I was blown away by their passion and energy on stage, and have been hooked since!"