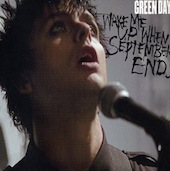 This
MTV article
is from September, but somehow managed to elude us all here at GDA! It's well worth a look back at though. It talks a bit about the meaning of the song, how it's been interpreted by people and how it's evolved over time to symbolise many different things. MTV then give you "10 fun ways to commemorate" the hit song.
"Because of the song's release date, it's most commonly thought to be about the events of 9/11, but band member Billie Joe Armstrong clarified the song was actually written as a memorial to his father, who died of cancer in September 1982.

Later, the song was dedicated to the deceased guitarist Johnny Ramone of the Ramones, who died in September 2004."
You can head on over to
MTV
to check out the full article and list. The first couple are probably the best, in my humble opinion:
"1. Blast the song on repeat with loud speakers from your window. Depending on the street you live on, you might get away with this for anywhere between 1 to 17 plays.

2. Host a party and make a playlist on your iPod consisting entirely of this song. When the annoyed guest gets restless of hearing it on repeat, tell him you'll put it on shuffle."
Thanks to desertrose for belatedly posting this on our forum!
Check back for another MTV "battle of the fans" that Green Day fans will be involved in over the next few days...