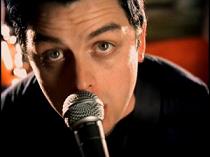 For me, 2011 has been a whirlwind year filled with plenty of ups and downs and a lot of time floating in-between extreme peaks and valleys. Green Day's song "Waiting" represents my year incredibly well - it certainly celebrates my successes, exposes my failures, and captures the feeling of hope that I have for the future.
"I've been waiting a long time for this moment to come, I'm destined for anything at all" represents the successes that I've had this year. I finally found a school that fits my needs and for the first time I'm living on my own and enjoying the freedoms of being a young adult. Creatively, I started writing for this website and I started
a band
with a friend, both of which are going really well. Everything that is happening to me at this stage in my life is also in preparation of my future - going to school and being successful is certainly setting me up to be "destined for anything at all."
"Calling, don't let it catch you falling, ready or not at all" represents the way that life has sometimes engulfed me and almost seen me fall this year. I've faced some incredibly tough decisions and seen people that I love go through heartbreaking situations, and at times these moments have almost taken me down. However, I've tried my hardest not to let life see me fall and I've fought my way back several times. Although I feel like a lot of things are right in my life, there are always curve-balls that I'm not ready for, and this song empowers me to face them head-on.
"Better thank your lucky stars" to me represent the friends and family who have helped me to get through this year and been there with me through good and bad. I've realized this year how much my closest friends and family members mean to me, and whenever I hear this line in "Waiting" I am overpowered with love for them.
Finally, "Good luck, you're gonna need it where I'm going if I get there at all..." to me symbolizes the need for me to stay focused and power forward, because although my life is on the right path now, it could easily veer off course, and the symbols in this song - my friends, family, school, and job - will hopefully keep me focused and empowered to reach my potential so that I can truly be destined for anything at all in 2012 and beyond.