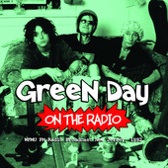 Back in 1992 while Green Day was touring for the
Kerplunk
album, they made a stop at radio station WMFU in New Jersey to play a set of songs. That live performance was then broadcast on air for listeners in the area to hear. Nearly 20 years later, that performance is being released!
The recordings are from the unofficial bootleg "Radio Daze" which has been around since the 90's - this appears to be a repackaging of that bootleg and being made available online.
On January 29th, Smokin' Records is releasing this performance on
CD
and on
iTunes
with the title
On the Radio
. A
pre-order page
was recently made on the UK iTunes store for the album. For £7.99 (roughly $12.29 US) there are 20 tracks from the band's first two albums played live in WMFU's studio.
"It was during their tour in support of Kerplunk that the band played an in-house set on May 28th at legendary New Jersey station WMFU FM, which was broadcast live. With a song list predominately made up of tracks from their first two albums and early EPs, the performance, featured in full on this CD, offers a perfect retrospective of their early career. An intimate event without an audience, save for DJs and technicians, the band still play in a typically exhilarating manner for close to 70 minutes, during which, in addition to their own multiple compositions, covers of numbers originally by fellow local bands Operation Ivy and Fifteen are included."
On the iTunes page, you can hear previews of all the tracks, and I must say that the quality is pretty damn impressive. It'll be nice to have a great quality live show from the band from their early days.
If you're not in the UK, don't worry, you can still hear the previews. Just change your iTunes Store to the United Kingdom and search 'Green Day On the Radio' and the album should show up. I would assume that the album will start showing up soon in other country's iTunes Stores and will be available for everyone to purchase on or around the 29th of this month.
The album is also on The US Amazon and is priced at $22.30. The expected release date for that is February 7th. You can pre-order that by
clicking here
.
Thanks to alexwetherell on the forum for the news!