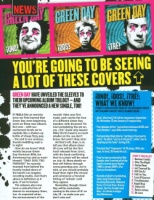 We're excited to announce that once again we've teamed up with the folks at
Kerrang
to distribute the
next issue
of Kerrang Magazine, which comes out Wednesday (July 18th). We know Kerrang can be hard to get for some people (it's based in the United Kingdom), so we're offering it worldwide for $5 plus shipping.
We don't have a cover or a preview yet for the issue (those usually come out on Tuesday's before their Wednesday release), but they did advertise it in last weeks issue (on the right), saying "Green Day will be exclusively coming to the cover of K! on July 18th." We also know Kerrang was one of the few publications that went to listen to the new trilogy this last week, so we're definitely looking forward to seeing everything they have about the new albums.
We have a limited amount of the issue available, and they're only printed this week. So if you want one,
pre-order now
and we'll ship it out July 23rd (it comes out the 18th, we need a couple days to get them in and start packing).
I'd also like to mention that we've marked down the cost of our
2011 Review Zine
by 60% to only $2. It's 80 pages, full color, recap of last years Green Day news, fan artwork, and Green Day articles written by GDA staff and other fans. You can see it and other items in the
GDA merch page
.