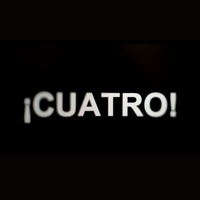 Last night, VH1 showed an hour-long edited section of Green Day's documentary about the making of the trilogy, titled
¡Cuatro!
.
Over the course of the next month, both VH1, MTV2 and Palladia will be showing this TV version of
¡Quatro!
periodically. The next airing will be during MTV2's "120 Minutes" this Friday, in case you missed it last night. For a full list of
¡Quatro!
airings, see
this post
from last week.
There were a few new songs featured that will be released on
¡Tré!
(December 11th in the US). We heard pretty long excerpts of "Missing You," "X-Kid," and "Dirty Rotten Bastards." We have clips of these new songs, which you can hear below. Note: Even if the players below keep giving you a spinning arrow, go ahead and click it to play the clips.
Missing You
X-Kid
Dirty Rotten Bastards
The Forgotten (Strings Only)
If you can't play the files above,
download here
.