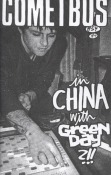 Long time friend of Green Day and drummer of Billie Joe's side band Pinhead Gunpowder, Aaron Cometbus has recently released the 54th issue of his punk zine, Cometbus. This issue of Cometbus is dedicated to Green Day and talks about Aaron's experiences with Green Day as he toured with them in Asia in January of 2010.
A member of our forum,
Abbey
has already gotten the chance to read this issue of Cometbus and she says:
"Aaron writes the most beautiful story of his friendship with Tre, Mike, and Billie (and Bill Schneider and "The Big Three" aka the Jasons/Jeff to us.) For me, this may be the first piece of writing about Green Day that Billie, Mike, and Tre were humanized."
You can pick yourself up a copy of Cometbus at most independent record stores or online at LastGasp.com by
clicking here
.
Update: You can now order the zine
directly from GDA
. $4 each, and shipping prices are low. Our goal is just to get this great piece on Green Day to as many fans as possible.