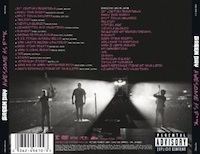 One of the things confirmed in the IdiotClub.com chat with Green Day's engineer Chris Dugan and Bill Schiender was that all versions of
Awesome As Fuck
will include "Cigarettes and Valentines" on the bonus DVD (we earlier thought it was just on the German version).
Amazon.com
has put up a scan of the back cover, which also confirms that "My Generation" will also be included, which was filmed in Tokyo but previously left off the DVD tracklist.
I'm not 100% certain what version of "Cigarettes & Valentines" will be included, I just assumed it'd be the live version
released last week
, but...I guess we'll have to wait and see for sure.
Visit Amazon.com
to view the listing.
Thanks to PunKZ for sending this news.