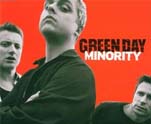 Adeline Records
has just released Green Day's Minority EP on clear vinyl through the Adeline Records online store. This is a very limited pressing of the EP with only 300 copies made and only 200 copies available through Adeline.
The EP includes four songs, "Minority," "Jackass," "Brat" (Live From Tokyo), and "86" (Live From Prague). This is the first time that the
Minority EP
has been released on clear vinyl. In the past the EP has been released on black, green, red, and peach vinyl.
You can pick up yourself a copy of the clear vinyl over in the Adeline Records store for $5.00 by
clicking here
. Act quick to order these though since they are sure to go fast with such a limited quantity.
Update Thursday May 26
: The clear vinyl has already sold out. The regular black version is still available though.
Thanks to @GreenDayMind for the news