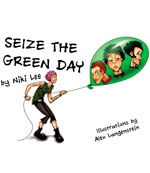 As mentioned earlier in the week, we have another contest for you. We just can't stop giving stuff away at the moment!
Now you have the opportunity to win a copy of Niki Lee's book 'Seize The Green Day' - the story about Niki's discovery of Green Day and her subsequent adventures around the world following the band. It's a great read for any dedicated Green Day fan, written by one of the most dedicated fans!
If you'd like to be in with a chance of winning a copy, please send an e-mail answering the following question to
contests@greendayauthority.com
Question
Which classic film inspired the cover artwork for 'Seize The Green Day?'
It's a toughie! Good luck. Contest closes on 31st July, so get your entries in before then!
If you'd like to order a copy of the book, you can do so
here
.