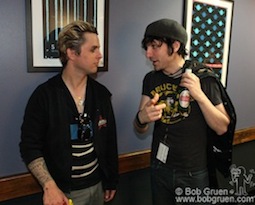 Jesse Malin and Green Day collaboration as Rodeo Queens song Depression Times makes
Little Steven's Underground Garage
first 26 coolest songs of 2011. You can take a listen to all 26 songs
here
. I'm listening now and it's a pretty cool mix of bands and tunes.
Check back on this
story
from earlier in the year for a download of Depression Times.
Jesse Malin is pictured here with Billie Joe in a photo taken by
Bob Gruen
. Jesse and Green Day produced Depression Times in New York in 2010.
Thanks to jaynedny for sending this news.