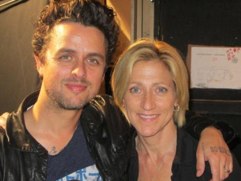 Looks like Billie Joe will be guest starring in an upcoming episode of the Showtime series "
Nurse Jackie
."
A couple of tweets about it, plus a photo with the shows lead actress, Edie Falco, confirms this. There was also a mention of it in a local newspaper, but I can't seem to find it now.
The picture on the right is from the executive producer of the show @Richie_Jackson:
"Edie & our new cast member @BJAofficial! Wait till you see the season premiere! "
There's also a tweet from a Los Angeles radio station @987LA
"LOVE this. @BJAofficial (Billie Joe Armstrong) gonna be on new season of Nurse Jackie!"
Filming for the show just started recently, and the premiere won't be until Spring 2012 (the last two seasons have started in March). So we have a bit of a wait.
Thanks to achin' to be for posting this on the forum
.