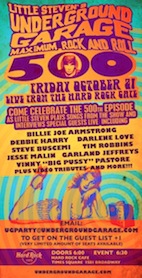 As we posted about
last week
, Billie Joe will be one of the special guests for Little Steven's 500th Underground Show in New York tomorrow night.
The great news is that
undergroundgarage.com
confirmed today they will be hosting a "live video stream" of the show on their website:
"We have set up a LIVE video stream of the 500th Show Celebration at the Hard Rock Cafe in Times Square courtesy of EarthCam - so nobody has to miss any of the action. LIVE Friday, October 21 at 6:30 PM EDT"
We're working on also having the feed available for the show here on GDA, so check back tomorrow for further details.
You can even stop by the Underground Garage
page now
and watch a live feed from Times Square in New York...
See if you can spot the Green Day boys!
Our news editor
Jimmy
, who'll be attending the show, will bring more details tomorrow!