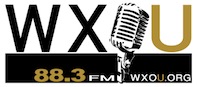 *UPDATE:*
Great to hear so many of you tuned in, and what a great show. The guys at WXOU are working on a download for the show, so we'll post that up here soon for those who missed it!
College radio shows "Brian's Untitled Radio Program (BURP)" and "Frampton's Watermelon" are teaming up to offer two solid hours of Green Day-related radio on WXOU 88.3 FM, Auburn Hills MI, broadcasting from Oakland University.
You can listen online at
www.wxou.org/listen
right now!
Here's what host Brian Johnston has to say about the show:
"My name is Brian Johnston, and I host "Brian's Untitled Radio Program" (the BURP) on WXOU 88.3 FM "The Grizz" in Oakland University, Auburn Hills MI. On Monday November 7 at 3PM Eastern time, I'm dedicating the entire hour to Green Day and related bands. I've just been informed by Luke Diamond Philips that he will be dedicating his show "Frampton's Watermelon" to everybody's favorite boys from Berkeley as well.
Please note that WXOU is a nonprofit college radio station. It has no commercial advertisements and I'm a volunteer DJ. Neither Luke or myself are profiting monetarily by this. In the interest of honesty, we're both just very big "Green Day dorks." Well, that and our fragile egos weep when we look at the "who's listening online" counter and we only see single digits.
We'd love to field requests during the two-hour span as well. If you want to hear anything Green Day-related, we'll try to play it.
You can listen live at
http://www.wxou.org/listen
and tweet @wxou during the show to request songs. You can also call (248) 370-4274 to request over the phone."
I'll be tuning in, hope you can too. There'll also be a chance to win Guns 'n' Roses tickets!
You can 'like' their facebook page
here
for updates on this and future shows.