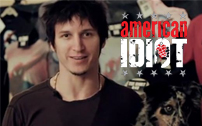 Late
last month
, most of the touring cast for the American Idiot musical was announced minus one key character, St. Jimmy. Speculation started to fly around that maybe Billie Joe was going to reprise the role, but this past week AmericanIdiotTheMusical.com
announced
that Joshua Kobak would be playing the role.
Kobak isn't new to the Idiot family though, he was apart of the original Broadway cast of American Idiot as a "swing" and an understudy to
St. Jimmy
. Apart from American Idiot Kobak has also been in RENT, Spider-Man, Tarzan, along with quite a few
others
.
I love how there are members of the Broadway cast who have joined the cast of the musical tour so we know the the show will stay in good hands. Other returning actors to American Idiot include Van Huges playing the lead role of
Johnny
, Leslie McDonel, playing the part of
Heather
and Krystina Alabado as an ensemble.
You can find out all the details for the upcoming Musical tour over on AmericanIdiotTheMusical.com by
clicking here
.