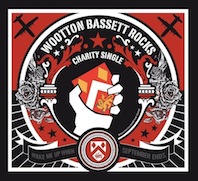 Attention Green Day fans! We need your help in spreading the word about the upcoming charity single release of
Wootton Bassett Rocks
cover of Green Day's
Wake Me Up When September Ends
. The good people leading this project, which aims to raise £1million to aid military charities that support fallen and returning war heroes in England, have kindly sent us the link to their as yet unreleased music video and song.
Watch it below. It's really great and displays beautifully the community spirit behind this initiative:
How can you help? We need to make as many people aware of this as possible, and by posting links to the video on your facebook/twitter pages etc., you can help to do this. You can do that simply by 'liking' this post and/or 'tweeting' it! You should also follow the charity on Twitter (@wbcharitysingle) and 'like' them
on Facebook
. You can also help by donating to the charity at
JustGiving.com
This is a really great project, for a cause that people all over the world can relate to at this time where war and conflict unfortunately has a dominant place in our lives. By getting behind
Wootton Bassett Rocks
, we can help to take steps towards helping the people directly affected by such events.
The single is set to be released on iTunes on 28th November, so look out for more updates as the week continues. Thank you for your support!