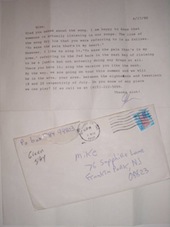 This interesting piece turned up on a local radio station website
Radio1045
, for the Philadelphia, PA area. Here's what they say about it:
"A typed letter from Billie Joe Armstrong himself to a fan from way back in the early days of Green Day in 1990 has hit the web. The letter explains some of his lyrics and even has the Green Day frontman asking the fan for a place to play near his hometown. Oh how times have changed.
(via Letters of Note)
"
The signature on the letter is very different to the one Billie Joe uses today, but it may well have evolved over the years. It does look a genuine piece and if so, it's really cool to see how things were back then! It has a very
Lookout!
feel to it, i think. Perhaps someone can verify this is in fact probably genuine. @LarryLivermore perhaps?
You can read the whole thing over at
Radio104.5
and share it, it's well worth checking out!
Thanks to Lauren Gallagher for sending us this news!