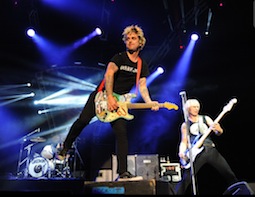 Green Day put another variation on their recent penchant for a surprise/last minute show last night. This time the boys were called in as replacements for
Janes Addiction
(who had to pull out due to family reasons) in Oakland last night. Green Day were called in just an hour before the show! How fucking cool?! Tre Cool! (And on his
Birthday
too!)
The news broke on
LIVE 105
radio:
"Unfortunately, one of the members of Jane's Addiction had an emergency family situation. The band is not able to play tonight's show a scheduled.

NEVER FEAR! Local heroes Green Day are here to save the day!"
So Green Day were added to the bill for the "Not So Silent Night" Christmas show being held at the 20,000 capacity
Oracle Arena
, along with
Beta State
,
Young The Giant
,
Bush
,
Mumford & Sons
and
Floerence and The Machine
(- who you might know
covered songs
from Nimrod prior to their breakthrough).
There were some tickets left at the box office, so some Green Day fans in the vicinity made a mad dash to get to the show on time! A few rumours just before the show suggested that Green Day might play
Dookie
in its entirety. That wasn't quite the case, although Billie Joe
announced
they'd be playing a lot of "old shit" and so they did, playing classics such as
Burnout
,
Going To Pasalacqua
and
Nice Guys Finish Last
.
Adrienne
tweeted this
during the show (along with a photo):
"The master at work ;)"
Photo:
Live 105
radio - head over there to check out the rest!
And you can take a look at
the thread on our forum
for more recaps, pictures and videos still coming through from the show.
Setlist:
Welcome to Paradise
2000 Light Years Away
Geek Stink Breath
Hitchin' a Ride
Nice Guys Finish Last
Burnout
Metal Jam
Covers & Brain Stew/Jaded
Longview
Basket Case
She
Going to Pasalacqua
When I Come Around
American Idiot
A very BIG Thanks to Mozzabillie & other GDC'ers for sharing the videos!