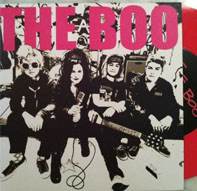 Over the past few days Billie's wife, Adrienne has been
tweeting
(@mnnesotagirl) pictures of stickers that say "The Boo". Speculation on what "The Boo" meant sparked quite some discussion on our forum with people suggesting that it was everything from a new band on Billie Joe's record label Adeline, to being a nickname for Adrienne's brother, skateboarder Steve Nesser.
Just moments ago Adrienne broke the silence by tweeting this following
message
:
"The family band ❤ pic.twitter.com/7B33n4ZA"
No more information about The Boo has been released at this time, but speculating on the photo we can assume that Adrienne is singing, Joey could possibly be drumming (as is his role in Emily's Army) and that leaves Billie and Jakob either playing guitar or bass. It will be interesting to see how this all pans out and if we will be able to get our hands on a copy of their record.
Update 1: There
are a few copies available
to buy in-store at 1-2-3-4 Go Records in Oakland
Update 2: Here are a
couple of the songs
posted on YouTube.
Update 3: Adrienne
tweets
about the project and the name
"Answers about The Boo;) It's our family holiday card..Jakob on guitar, Joey on drums & Billie joe on bass

Jakob's nickname has always been the boo"