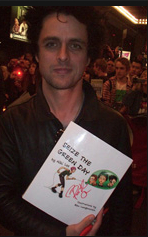 Who said you don't get anything for free? You do in Green Day Land! Niki Lee's awesome book about her travels around the world to see
The
band is available to download today from
Amazon
for for a big fat ZERO of your local currency!
Check back on our previous posts
here
and
here
for some more information about the book.
You might remember Billie Joe
tweeted
about it earlier in the year:
"Dear niki lee,awesome book! And there's a new green day song called "carpe diem".. What a strange world we live in. Xoxo bj"
Hurry, this offer lasts until midnight tonight!
Seize The Green Day
and go get yours now, right
here
.
(Free download for Kindle apps
here
)
Thanks to the 101 and only @nikilee101!