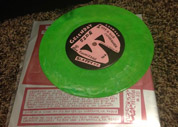 One of our forum members, "Raiderr," is going to be selling his extensive Green Day
collection
.
If you are a collector, this is definitely a post that I would check out. He has Japanese imports, vinyl, bootlegs, promo items, DVDs, and just about any other Green Day item that you could possibly think of.
Instead of doing a normal Ebay auction, these items are being sold directly on our forum through the Personal Message system. If you see an item that you like all you have to do is send raiderr a
message
with an offer.
Head on over
to the Green Day Community to check out his full post with all the items.
For all of those who make a purhcase your name will go in a hat for a free drawing that will contain some extra goodies shipped free of charge to the winner. The drawing will be on June 15th and will be announced on the forum.