This week, we're featuring some very cool eBay items that are fairly rare, and pretty hard to get ahold of: 99 Revolutions tour guitar picks. The picks in these auctions are exactly the same as the picks that Idiot Nation has given away on a couple of occasions in the past. I myself am a collector of Green Day guitar picks from all different tours. At this point, I've got almost 50 different Green Day picks, and these four picks in the auctions linked below were quite possibly the hardest for me to find for quite awhile when the 99 Revolutions tour started. They are 100% authentic, and the eBay seller who listed these picks worked on the stage crew at the Pittsburgh, PA show on March 31, 2013.
The seller has up to 10 of each pick available, so don't miss your shot! The picks in these auctions are pretty reasonably-priced, compared to the money that some other sellers have wanted for the same picks. Here is a picture of the four picks available, the top row showing the fronts of the picks, and the bottom row showing the backs: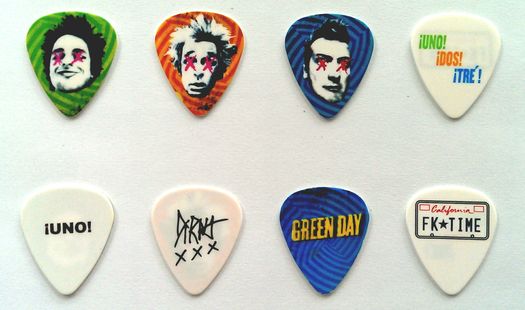 View more
Green Day items on eBay
.