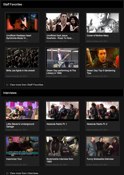 Today we're launching a new video section on GDA to help organize some of our favorite Green Day videos on YouTube. We're launching the section with about 50 videos including: Music Videos, live performances, interviews, and tv appearances. We also have some of our favorites listed at the top.
Check out the new section
We still have some work to do, but we'd love your feedback on what we currently have. We'll be adding videos in there regularly so check back.
Of course, let us know if anything isn't working as expected or if you have suggestions on how we could improve it. Thanks!