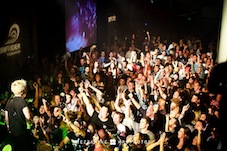 Check out
these high quality photos
that have surfaced from Green Day's performance at the
Mezzanine
in San Francisco last Tuesday, for the
Surfrider Foundation
.
There's some really great shots of both the band and the crowd, which give you a feel for what the show was like, thanks to
krdphotos'
.
If that's not enough for ya, here's a great photo of Billie Joe
"doing a proper crocodile"
thanks to
Rip Curl
.
There's also a nice little article and some more pictures at
Transworld Surf
.
Thanks to Sandra Evans and Roxsw88_gdlot for this news.