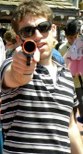 First off, I'd like to introduce you to our newest
team member
, Mike Shomaker, a grad-student from Virginia who will be helping us out with content on the site. He's in charge of our weekly newsletter, recapping the biggest stories and filling you in every Friday. Here's a little about Mike from our team page:
"It started with the blue tape in '94. For the nine-year-old hearing "Basketcase" blasting through the stereo that afternoon, it was love at first listen. Since then, Mike has been a HUGE (HUUUUUGE) Green Day fan. But when he's not following the East Bay punk rockers around the globe, he enjoys spending time writing, playing drums and surviving grad school. Mike currently lives in Arlington, VA. Feel free to send him a message and find him on
Facebook
and
Twitter
."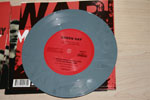 With Mike on the team now, we're putting new focus into our
newsletter
and hope to make it grow and provide a way for those of you who can't keep up with every single thing we post. This week we're going to give away a Minority 7" grey vinyl to one of our subscribers. If you haven't signed up, you need to sign up before the December 24th to be entered. Sign up!
We won't spam you or give your address out to anyone. After you press subscribe, an email will be sent to you, click the link in there to confirm your address.
If you're already signed up for the
newsletter
, then you're already an awesome, beautiful person and will be entered into the contest. The winner will be announced in the next newsletter (going out Friday). And we plan on having more contests in the very near future. So sign up, and when you start getting them, feel free to give us feedback on how we could improve each release.
I'm excited to have Mike join the team and help us provide more stuff for you.
Go follow him
!