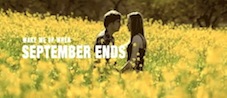 MTV Brazil
have picked out 15 songs that illustrate the events of 2011, with Green Day's "Wake Me Up When September Ends" included in the list.
The article is in Portuguese, but our good friends at
GreenDayEulogy.com
have kindly given us a translation of the meaning behind the Green Day pick! (note: the translation may not be 100% accurate, it's meant as more of a guide)
This is the translation from @carolahmed of @GDEulogy:
" If you were listening to the new Red Hot Chili Peppers album while the world was falling down in Egypt, you don't need to feel the most uninformed person, because you can still fix this! To finish the year, we separated the main events of 2011, and let the songs illustrate/represent the memorable things that happened this year."
Carol goes on to say:
"They made a list with 15 songs, each one represents one event of 2011. Wake Me Up represents the US troops leaving Iraq war."
It's a pretty unique and cool way to relate events of the year to fans of music. Head on over to
MTV Brazil
to see the full list and some of the other songs chosen, which include videos from
The Clash
,
Amy Winehouse
and
Charlie Sheen(!)
.
A huge thanks to Carol/GDE for sending and translating this news. Even if you can't read portuguese (yet!), go check out
greendayeulogy.com
- it's a great looking site and they often publish news translated to English as well (and of course, Google allows you to do that too, yourself!).