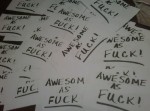 Amazon.com has listed
Green Day's upcoming live album and DVD as "Awesome as Fuck" and it's release date set for March 15, 2011.
The live album was
first announced
by Billie Joe on Twitter earlier this year, and
we later confirmed
a DVD was coming along with it. Our current understanding is that the album will include shows from all over the world during the 21st Century Breakdown tour, but the DVD will be a recording of from two shows Green Day played in Tokyo.
We have not confirmed this with the band yet, and no final setlist or list of shows that will be included have been announced.
The CD/DVD is
currently available for pre-order
for $20 from Amazon.
They haven't shown what the artwork will look like.
Update: We now
have an idea
of what the artwork will look like.
Just to note, it's always possible for Amazon to change the title or release date, they sometimes put something in just as a "place holder." Once we can confirm everything 100%, we'll update this post.
Update: We got it confirmed, it is coming out March 15th.
Thanks to Emilie for sending the news. The image on the right is not the cover art, but some of the signs made by our friends Beth and Abbey which inspired the title.