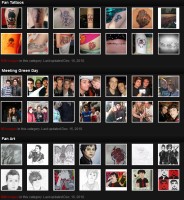 Here's a project I've been working on since just before the holidays, and glad I can finally share it with you guys. We've migrated all
our fan photos
into a single place, and now housed in the picture vault. You can see photos from fans meeting Green Day, Fan Art, Fan Tattoos, and some Green Day decorated rooms.
We've had the Fan Art section closed since November 2005, and I'm glad to finally have it open again. We've updated both the fan art and fan tattoos section with hundreds of submissions that have gathered throughout the years - so check them out!
The
fan photos page
is a summary of each section - it shows the latest entries and when the sections were last updated.
We'll be adding 'autographs' into the gallery in the very near future.
If you'd like to submit a photo of yours, email it to photos@greendayauthority.com - include what section it's for in the subject.