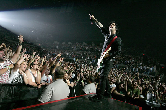 Green Day has been listed as one of
Rolling Stone's
"Top Eco-Friendly Rock Stars" alongside other bands including The Dave Matthews Band, Barenaked Ladies and many others.
"With the release of American Idiot in 2004, Green Day cemented their transition from snotty California punks to adults with an agenda. But instead of just singing about suburban wastelands and highways full of gas-guzzlers, they joined forces with the National Resources Defense Council, encouraging fans to demand clean energy and green jobs through action in Congress."
You can read the full write up about Green Day on RollingStone.com by
clicking here
and learn more about Green Day teaming up with NRDC by
clicking here
.
Thanks to Dave Broche for sending this news.