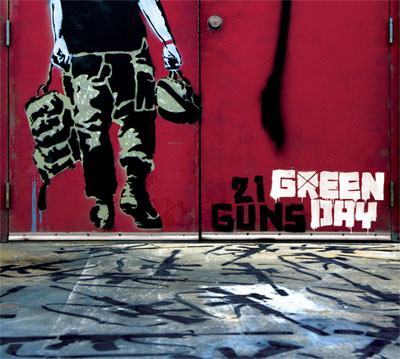 GreenDay.com
posted the artwork to the right yesterday, but didn't say what it was for. We are assuming, since 21 Guns is slated to be the next single, that it is the artwork for the single cover. You can click on the image to the right to make it bigger.
Green Day was interviewed last night by Stephen Colbert. They talked about their decision not to edit their CDs for Walmart, and they even covered part of a song that Stephen sang! In addition to that, they also played Know Your Enemy. You can catch the videos of the interview and performance
here
on Colbert's website. Unfortunatly, I think this video is only viewable in the USA. When we get another video, we will post.
Green Day performed today in Central Park, New York City in front of a massive crowd for Good Morning America. Here are some videos.

†
Know Your Enemy
(thanks Greenday_Aussie)

†
21st Century Breakdown
(thanks Terrbear)

†
Longview
(thanks Terrbear)
These videos were posted on the
forum
. Thanks to everyone for posting!
Tonight, don't forget to watch the
Late Show with David Letterman
on CBS. Check your local listings for times.
We are aware that GDA is slow with response times. We are currently working to fix the problem.