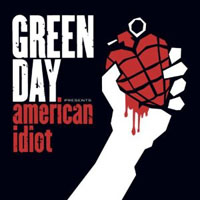 Gibson.com has included 'American Idiot' in the top 10 concept albums of all time. They were listed at #5, between some very worthy names like Pink Floyd, The Beatles, and The Who. Here's what they said about the album,
"Punk rock and opera might seem like a contradiction in terms, but Green Day fused those concepts perfectly on this landmark disc. Released a few weeks prior to the 2004 presidential election, the album saw the veteran trio shed its sometimes-goofy image for more ambitious goals - such as inspiring listeners to become politically engaged. Playing his trusty Les Paul Junior, frontman Billie Joe Armstrong pushed at the boundaries of the band's thrash aesthetic, while still unleashing enough buzz-saw riffs to keep longtime fans happy."
You can check out the full list
on the Gibson website
.
Thanks to XxRedundantCastaway86xX for sending this news.