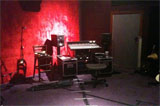 Mike Dirnt's side band, The Frustrators, announced today on their
Facebook
that they are currently in the studio working on a forthcoming EP that will be released later this year. They also said that they are also currently planning some shows in California. No dates are confirmed for anything at this point.
Suspicion of The Frustrators recording a new EP first started in March 2010 when the band began posting pictures on Facebook in an album called, "Shots from the bunker". You can view all of those studio pictures by
clicking here
.
For those of you who don't know, The Frustrators are a punk rock band comprised of members Jason Chandler (lead vocals), Terry Linehan (guitar, vocals), Art Tedeschi (drums), and Mike Dirnt (bass). The band has previously released two albums on Billie Joe's record label,
Adeline Records
. The last release by The Frustrators was their album "Achtung Jackass" in 2003.
You can purchase some of The Frustrators music from either
iTunes
or
Adeline Records
.