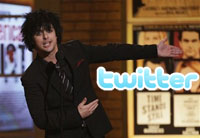 News
started spreading around yesterday
that Billie Joe had his own account on Twitter. His first tweet was re-tweeted by the Adeline Records Twitter account (@AdelineRecords), and shortly thereafter we confirmed that it is indeed Mr. Armstrong himself. GreenDay.com also confirmed the news overnight.
So, if you're interested in getting updates from him directly, you can follow his account @BJAofficial.
And of course (here comes a shameless plug) you can follow us on Twitter too @GDA.