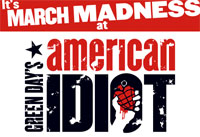 If you're looking to go see the musical in March, you should definitely order early. An email was sent yesterday to let people know that tickets are on sale for the entire month of March, up to $100 off for some tickets.
You need to order your tickets at least 7 days in advance to get the discount.
Order your tickets here
, and use the promo code
AIWBX213
.
This is for all performances from March 1 - April 3, so the sale includes tickets available for
Davey Havok's
run as St. Jimmy.