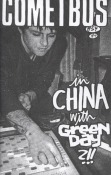 Earlier this month
we posted about
Cometbus #54, the popular independent zine written and self-published by friend-of-the-band Aaron Cometbus. His latest issue is a 97 page look behind the scenes with Green Day as they toured Asia in January 2010.
Aaron writes about his experiences traveling with them, and looks at his relationship with the band today, from where it started 20-some years ago when they were all regulars at 924 Gilman St.
We got in a limited number copies of the zine,
which we're selling
for $4 plus shipping. Our goal is to get this great piece of writing, and wonderful look at the band, to as many fans as we can - so we're charging as little as possible (US shipping starts at $2, International shipping starts at $5)
You can order on this page
. Orders will begin shipping March 2nd, and take 3-6 days to deliver in the US, and slightly longer outside the US.
The fans who've been able to pick up a copy all have pretty equal praise for Aaron's writing, and it really is a must-read for Green Day fans. In our earlier post we quoted our friend Abbey who said
"Aaron writes the most beautiful story of his friendship with Tre, Mike, and Billie (and Bill Schneider and "The Big Three" aka the Jasons/Jeff to us.) For me, this may be the first piece of writing about Green Day that Billie, Mike, and Tre were humanized."
So, if you wanted to pick up a copy but were put off by the high shipping costs,
order from us
. Again, we have a limited supply, but if there's enough interest, we'll try picking up some more for everyone.
Update 9:39am EST:
We've already sold out! We're figuring out how to get more as quickly as we can. We didn't expect orders to sell out so quickly! Thanks to all of you who have placed an order. We'll post an update in the next few hours.
Update 11:02am EST: Sales are back online. Anyone wanting to order one can do so now. Thanks!