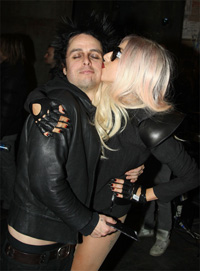 Billie Joe has a new friend. He attended the Lady Gaga concert in Madison Sqaure Garden a few nights ago, and sent the [twitter=BJAofficial]following tweets about it[/twitter]:
"I'm at Lady Ga Ga! And she's killing it! She's in a plastic nun costume!!!!

She's covered in blood! Show me your teeth! Great drummer! 2 amazing ballads!!

Awe tipsy.. Fun night and cool lady. Very sweet to my family and friends and as far as all the other "diva" pop singers,,,? They're not even close. She told me the first cd sh bought with her own money was dookie. She was in the hmv line when were doing an instore"
Cute. She's now the only person Billie is following on Twitter.
Yesterday Lady Gaga showed up to the American Idiot Musical. The image on the right is from
GagaDaily.com
(more photos on their site).
Thanks to vla313 for posting this on the forum