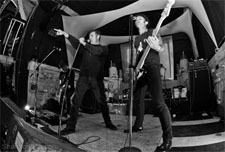 Adeline Records is
giving away
5 pairs of tickets to see The Frustrators (Mike Dirnt's side band) perform at the Troubadour in West Hollywood, CA on Sunday night.
Here are the details to enter:
"This is a last minute chance to win a pair of tickets (only 5 pairs available!) to see the FRUSTRATORS on SUNDAY NIGHT (February 27th) at the world famous Troubadour in West Hollywood, CA.
It's easy and free; just follow these three simple steps:
STEP 1: "Like" Adeline Records
on Facebook
STEP 2: Sign up for
our newsletter HERE
STEP 3: Send an email to CONTESTS@ADELINERECORDS.NET with your FULL NAME, ADDRESS, EMAIL ADDRESS AND PHONE NUMBER (cell phone preferred).
We need this information to get ahold of you, get your names on the guest list and make sure that you're actually going to be in town to make it to the show in time.
Winners will be randomly selected and announced on Sunday morning. Please remember to check your emails and make sure our emails don't get sent to your spam boxes."
To keep up with all the news about The Frustrators, you can
like them on Facebook
.
Photo on the right by Shannon Car, visit
her site
to view more.