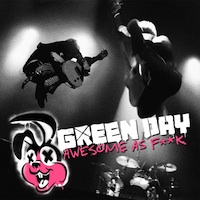 The big day has arrived, it is now March 22nd here in the US and Green Day's newest live album,
Awesome As Fuck
, is now available online through iTunes and Amazon, and available in stores such as Best Buy, Target, and other CD-selling places (with the exception of Wal-Mart, of course).
The album is available on iTunes and Amazon in both standard and deluxe versions. The iTunes deluxe version includes three bonus tracks: "Letterbomb," "Christie Road," and "Paper Lanterns/2000 Light Years Away." The Amazon deluxe version includes just two bonus tracks: "Letterbomb," and "Christie Road." Also on Amazon is the DVD of
Awesome As Fuck
in mp4 format so it can be played on your iPod and other media devices.
iTunes has put up the performance of "When I Come Around" from the DVD as a FREE download.
click here
to download that.
Download Links
iTunes:
Standard
-
Deluxe
-
Video
Amazon:
Standard
-
Deluxe
-
Video
Also, the CD/DVD combo can be purchased on Amazon by
clicking here
. Or, if you're a Blu-ray person, the CD/Blu-ray combo can be purchased
here
.
Let's help make Green Day take over Twitter today. For all of you who use Twitter, end every Green Day-related update with #GreenDay and #AwesomeAsFuck.
Also, iTunes has made a new Green Day page with 69 cent Green Day songs and $7.99 albums.
Click here
to go to that page.
I've had the chance to listen to the album a few times over the last couple days and I must say, it definitely lives up to its title. My favorite track from the album has to be "JAR." But, including the bonus tracks, "Christie Road" is my favorite. It is gorgeous and sounds great. I highly recommend at least getting that bonus track.
The album has been released in other countries over the last couple days and we've heard nothing but good words about the DVD performance. So be sure to purchase the CD/DVD or CD/Blu-ray combo in stores or online through Amazon to get the full
Awesome As Fuck
experience.
View the inlay/artwork to Awesome as Fuck in our
Picture Vault
. Thanks to
luke price
for scanning and sending the artwork.