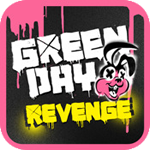 Now available in the Apple App Store is a Green Day centralized version of the popular iPhone app "Tap Tap Revenge." Tap Tap is much like Guitar Hero or Rock Band except it's made for the iPhone and/or iPod touch. It will have ten tracks from the band, including "Welcome to Paradise," a live version of "21 Guns," amongst others. The app is $4.99 in the US and can be purchased by
clicking here
.
"Introducing GREEN DAY REVENGE! An all-things Green Day music game for iPhone & iPod Touch from the makers of the hit music game series Tap Tap Revenge. Tap to 10 Green Day tracks including "21 Guns (Live)," and "Welcome to Paradise." Post your scores to Facebook & Twitter, plus chat with other Green Day fans from all around the world, right inside the app."
Click here
to purchase and download the app for iPhone or iPod touch.
Update:
Thanks to Michael who linked
to this video of the game
in the comments.
Screenshots:
Thanks to everyone who sent the news in this morning