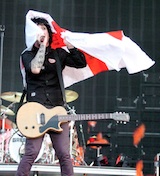 Absolute Radio has made available for listen fourteen tracks from Green Day's June 16th, 2010 show in Manchester, England. Tracks include "Nice Guys Finish Last," "Burnout," "Jesus of Suburbia," "When It's Time," and many more.
Click here
to listen to the tracks over on Absolute Radio's site.
The tracks are very good quality, even for streaming off the internet. Unfortunately, the tracks are edited with a "beep" every time Billie swears. Also, between each track is a Absolute Radio sound bite. But, oh well, we're lucky enough to get these! I'm guessing they are leftovers from the
Awesome As Fuck
process.
Thanks to SaintBilly for sending us the news