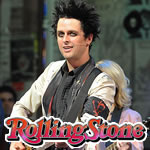 Rolling Stone has put together
a list
of their top 25 boldest career moves in the history of rock. They included Green Day's decision to turn 2004's
American Idiot
album into a Broadway musical at number 16.
"Punk rock and Broadway are at two ends of the musical spectrum, but in 2010 Green Day decided to bridge that gap by turning their 2004 smash LP American Idiot into a Broadway play. It was a pretty big gamble."
Green Day's page can be viewed by clicking
here
. The full list, which includes moments from Prince, The Boss, and Lil' Wayne, among others, can be viewed
here
.
Thanks to Dave Broche for sending this news.