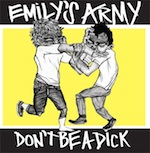 In a
press release
posted on Adeline Records' website Thursday afternoon, it was announced that Emily's Army is set to release their debut album,
Don't Be a Dick
, on June 14th on Adeline Records. It was also announced that Billie Joe produced the album.
"Teenage pop-punk group Emily's Army is gearing up for the release of their full-length debut, Don't Be A Dick, due June 14 on Adeline Records. Produced by Billie Joe Armstrong, the album features heartfelt teenage anthems dealing in cautionary tales, politics and the pressures of adolescence."
For those of you who don't know Emily's Army, they are a teenage rock band from Oakland. The band's drummer is Billie Joe's son Joey.
"The band takes its name from Max and Cole's 15 year-old cousin Emily, who was diagnosed with Cystic Fibrosis in 1998 and has suffered from the disease her entire life. In tribute, the band adopted the name Emily's Army, which also happens to be the moniker for a fundraising organization in their cousin's honor."
The press release, which includes the album's track-list as well as some other info, can be viewed on Adeline's site by clicking
here
.