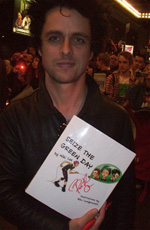 GDA is a proud to present the book
Seize the Green Day!
by Niki Lee and illustrated by Alex Langenstein. Now available for purchase through
Amazon
.
Seize the Green Day!
started out as a small article Niki had published in the Baltimore Magazine. The magazine had edited the article and excluded a lot of content, and you know us Green Day fans don't like things to be edited. So in 2006, Andres posted
her story
as one of the first GDA editorials. After that, Niki had extended the book and had digital copies of the book available for sale in PDF form. Now she's taken it to the next level with paperback book, published by CreateSpace.
The book is about Niki's journey as a 45 year old punk following Green Day around on the American Idiot tour and ending when she met Billie Joe in 2005 at the New York Times Interview. However, not all 350 pages of this book are all about her adventure. Niki has shared her book with Green Day fans all over the world, and allowed our stories to be published right along with hers, to be shared with all fans. The book is inspiring, reading everyone's stories about how they had connected with their favorite band, and even people throwing in words of encouragement to the band and their own personal touches is what makes this book great. I love Niki's book because it's unique. Unlike other books where it's just the history of Green Day, this book was written by a fan and for the fans.
Again, be sure to order a copy of this amazing book on
Amazon
and add it to your Green Day collection.
Thanks to ToniAnn Graffigna for the picture.