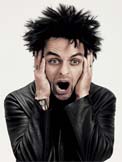 Recently, Billie Joe was interviewed by
Details Magazine
for their May 2011 issue. The interview talks about the American Idiot musical and where Billie Joe thought the characters came from and also about the American Idiot movie and how Billie may act in it if "its good". Billie also discusses his kids, politics, and the next Green Day album.
"If I feel like writing a surf song, I do it. I think all of our new records will have some kind of concept behind them. I love storytelling. The story is in the process, too, not just the lyrics. Exile on Main Street is the perfect example. It's an amazing record, but the story behind it is even better--tax exiles who recorded this masterpiece in a dirty basement. I miss playing music with Mike and Tré. I feel like I'm just jerking off making these demos."
You can read the full interview over on the Details site by
clicking here
.
We will keep you posted when the May 2011 issue of Details is released and where you will be able to buy it.
Thanks to roxsw88 for sending this news.