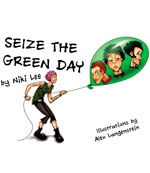 A couple days ago Courtney
introduced you guys
to the new book by our friend Niki Lee, Seize the Green Day. A story about her becoming a Green Day fan at 45 and how that changed her life.
We're giving away a couple books, courtesy of Niki Lee. To enter the contest, first sign up
for our newsletter here
(make sure to go to your email and validate your account), then send us an email to
contest@greendayauthority.com
with your name, just to let us know you're interested in entering. You need to do both steps to be entered.
If you've signed up for the newsletter in the past, then just send the email and you'll be entered.
We'll pick a winner (random selection) on Wednesday, April 27th. And we'll start another contest next week to giveaway the second book.
If you don't want to wait, you can always pick up the book
from Amazon
.