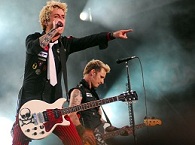 Green Day is once again a contender in a bracket battle with other bands titled "Battle of the Fans". Similar to MTV'S March Madness (which Green Day won), the round pits GD against Alter Bridge. At time of publication, Green Day were losing.
Don't let them be defeated! Help 'em out! Head over to the
Fuse website
and vote for Green Day!